In
&
Die iOS App "B-Step Sequencer 2 Pro" funktioniert nicht unter iOS 12!
Ich habe alles Mögliche ausprobiert, es lässt sich keine Lösung finden.
Man startet die App und diese schließt sich sofort wieder von allein!
Ich habe die App deinstalliert, mein iPad Air 2 mit iOS 12 neu gestartet, B-Step Pro neu installiert, doch es änderte sich nichts!
Bitte behebt diesen Fehler und bringt mal ein Update!
In den letzten 3 Jahren hat sich viel getan, es musste schließlich irgendwann der Zeitpunkt kommen, wo diese Situation eintritt!
Ich habe diese App wirklich gemocht und es wäre ein großer Verlust!
Es zudem nicht möglich, euch über eure Webseite eine Nachricht zu senden (
http://monoplugs.com/de/contact#navigation
), auch bei diesem Link nicht:
http://monoplugs.com/account#contact
Es kommt immer eine CleanTalk Meldung, dass man JavaScript einschalten soll, doch es ist eingeschaltet!
Hier ein Screenshot (antippen vergrößert das Bild):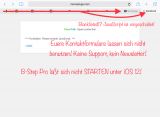 Hab jetzt keine Zeit, also jage ich den Spaß noch mal durch den Translator (Support per deutscher Sprache möglich, dieses Forum ist scheinbar nur Englisch:
The iOS app "B-Step Sequencer 2 Pro" does not work on iOS 12!
I have tried everything, there is no solution.
You start the app and it closes immediately by itself!
I uninstalled the app, restarted my iPad Air 2 with iOS 12, reinstalled B-Step Pro, but nothing changed!
Please fix this error and bring an update!
In the last 3 years a lot has happened, eventually it had to come at some point, where this situation occurs!
I really liked this app and it would be a big loss!
It is also not possible to send you a message through your website (
http://monoplugs.com/de/contact#navigation
), even with this link:
http://monoplugs.com/account#contact
There is always a CleanTalk message that you should turn on JavaScript, but it is turned on!
Screenshot (tap on it!):